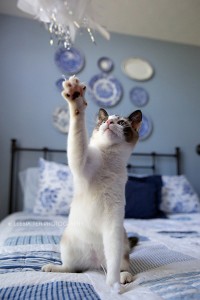 Kitty Critters
Cats need as much attention as dogs and other pets.  Because of this, we insist on seeing cats at least once a day.  We will not accept assignments for every other day or longer since so many things can happen in a twenty four hour period.  We have come into homes and found sick cats that required immediate medical care.  Had we not seen them when we did, the outcome could have been quite serious.
We prefer that all cats be indoors, but understand that some cats are outdoors only.  In that case, we cannot be responsible for anything that may happen to your cat while outside.
During our visit with your kitties, we will clean the litter boxes, provide fresh water and feed them according to your instructions.  If they are playful, we will play with them or give them lots of attention.   We respect shy cats and will not force them to interact with us.  If they prefer to hide under the bed until we leave, we will leave them alone.
When you return home, your cats will be telling you what purrfect care they received from Sweet Dreams Pet Sitting Services. Click here to contact us today!